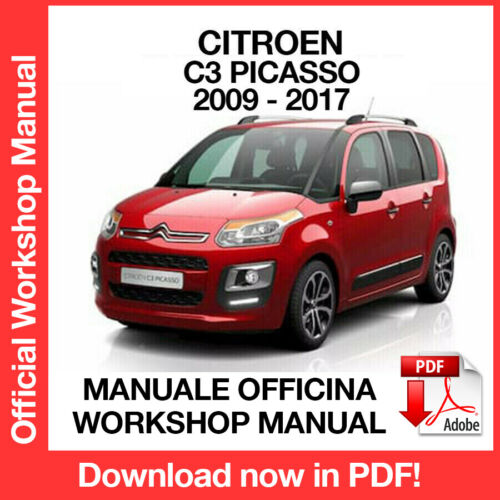 Citroen C3 repair and maintenance manual, oil and filter change procedure, wiring diagrams, engine and transmission diagnostics, error codes, fuse locations. The manual can be downloaded in PDF format for free
Citroen C3 STOP & START Service Manual Download
Citroën c3 2005 Service Manual Download
Citroen C2-C3-C3PLURIEL Manual de Taller PDF Download
Principio Funcionamiento C3 A OPERATING PRINCIPLE C3 Download
Citroen C3 I 2002 Technical Info ENG Download
C3 Citroen Manual de Empleo Download
Citroen C3 Diagnostics Manual PDF Download
Citroen C3 Diagnostics PDF Download
Citroen Manual T-Code PRO Premium code Es Download
Citroën C3 2002 Service & Maintenance Manual Download
Citroën C3 2005 Service & Maintenance Manual Download
Citroen C3 mk1 (2002 – 2009) – fuse box diagram Download
Citroen C3 2007 Owner's Manual Download
Citroen C3 2008 Owner's Manual Download
Citroen C3 2009 Owner's Manual Download
Citroen C3 2010 Owner's Manual Download
Citroen C3 2011 Owner's Manual Download
Citroen C3 2012 Owner's Manual Download
Citroen C3 2013 Owner's Manual Download
Citroen C3 2014 Owner's Manual Download
Citroen C3 2015 Owner's Manual Download
Citroen C3 2017 Owner's Manual Download
Citroën C3 2019 Owner's Manual Download
Citroën C3 2020 Owner's Manual Download
Citroen C3 Dag 2007 Owner's Manual Download
Citroen C3 Dag 2008 Owner's Manual Download
Citroen C3 Dag 2009 Owner's Manual Download
Citroen C3 Dag 2010 Owner's Manual Download
Citroen C3 Manual PDF Download
Citroen C3 Owners Handbook Download
For Citroen, the C3 has been one of the bestsellers for many years in a row - in Europe. An updated version of the Citroen C3 was released in 2020 - and now it is ready to continue attracting new customers. But for what? Let's figure it out in the format of "TOP 5 questions", which we will definitely find answers to.
Updated Citroen C3? What has been updated?
First of all, appearance. The car received a completely new front end: enlarged headlights, a new bumper, chrome decor. The updated Citroen C3 hatchback recalls several important brand innovations at once: for example, the Citroen CXperience concept car, as well as the Citroen C4 production model. Bah, yes, it looks like we have a new Citroen style! Plus, the characteristic "AIRBUMP" linings on the doors have slightly changed (I'll tell you below), a new sticker has appeared on the roof rack ... Someone will say "a little", but this was enough to make the updated car immediately recognizable - it cannot be confused with its predecessor.
A similar situation with the interior, which received a couple of important changes. Just a couple: in the sense that now two new design themes are offered for the salon - Emerald and TechWood. Each of the options includes decorative inserts on the front panel, contrast stitching on the seats, leather-trimmed steering wheel. Plus, there is more attention to detail inside: a reclining armrest for the driver has appeared. But you still can't find a place for a large smartphone, and you shouldn't even think about wireless charging - have you swung at the laurels of the Citroen C3 Aircross? But it wasn't there!
 The design is clear. Are there any technical changes?
Yes, there are changes - and again two. Frankly, both changes do not concern the "iron": motors, transmissions, platform remained the same. However, these are important and useful changes. Firstly, from now on all Citroen C3 cars sold in Ukraine are equipped with EcoLED headlights. This is a fairly simple optics - separate segments for low and high beams, manual adjustment of the beam of light horizontally. But still, the very fact of the transition of the once expensive and complex technologies to the class of mass "people's" cars is interesting. Better light, better safety - commendable!
Secondly, the Citroen C3 hatchback received Advanced Comfort seats, which were previously offered only for more expensive models - for example, the Citroen C5 Aircross. Here is the former form, but a new filler: a thicker (up to 15 mm) layer of foam-substrate is used. The manufacturer promises that such seats better take the shape of the body, and also provide more comfort in landing - but he noticed this: in fact, the chairs turn out to be very soft.
And how does he drive? Has something changed in habits?
Frankly, practically nothing. This is praise for the "engine + automatic transmission" connection and criticism for the chassis. Because the small 1.2-liter engine and the 6-speed "automatic" Aisin still find mutual understanding from a half-word. Ridiculously and sonorously growling three cylinders, the turbo engine quite successfully and briskly accelerates the car. Of course, everyone will tell you that "he is a racer with his mother," but to tell the truth, in real life, there are enough dynamics both when starting from a place, and when overtaking on the go, and when driving on the track. Indeed, in addition to the turbo torque of 205 Nm, there is also the overall lightness of the car.
The transmission works well: it shifts gears clearly and quickly, it does not lag either with an increase or decrease in speeds. The only unpleasant nuance is the nods when changing "1-2" gears, which you notice during intensive acceleration. But, believe me, a simple "robot" or an unsuccessful CVT behave much worse. And getting a full-fledged 6-speed automatic in this class and for that kind of money is a blessing.
Citroen C3 has a leisurely and calm ride, where you focus on comfort. It looks like the suspension has a little bit of travel with little power and then it tends to "lock" into the bumpers. That is why on small bumps there is a feeling of riding on some kind of "marshmallow blanket": soft, even very soft - cool comfort. But large irregularities, their alternations, protruding "policemen" are able to bring the suspension out of balance and make it work up to the bumpers. As a result, the situation is twofold. If you drive fast and on bad roads, you will call the Citroen C3 shaky and loose. But if you drive slowly, then the Citroen C3 will seem like a comfortable and smooth car. Moreover, the very light steering is also fully aimed at a leisurely driving style. In short, the Citroen C3 is a real "relax" car.