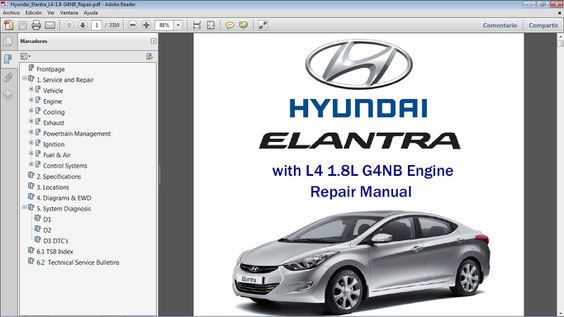 Hyundai Elantra 2003-2015 wiring diagrams, manual for repair and maintenance with gasoline engines. engine and transmission maintenance, spare parts catalogue, malfunctions, error codes, design features.
1.6L, 1992-1995 Elantra 1.6L, Versión Latina, 1994 Elantra 1.8L, 1993-1998 Elantra 2.0L, 1999-2003 Elantra 2.0L, 2005-2006 SULEV
Hyundai Elantra 1992-2006 Electronic ignition circuits and engine sensors Download
Hyundai Elantra GLS 2010-2015 Manual de Taller Download
Hyundai Elantra Engine Manual Download
Hyundai-Elantra 2013 ES Operación Mantenimiento Especificaciones 
MANUAL DEL PROPIETARIO Download
Hyundai AT Error AUTOMATIC TRANSAXLE (6-SPEED) Download
Air Conditioning Download
Anti-Lock Brake System Download
Automatic Transmission Download
Body (Interior and Exterior) Download
Body Electrical System Download
Brake System Download
Clutch Download
Cooling System Download
Drive Shaft and Front Axle Download
Electrical Wiring System Appendix Download
Emission Control System Download
Engine Electrical System Download
Engine Mechanical Download
Front Suspension Download
Fuel System Download
Intake and Exhaust System Download
Lubrication and Maintenance Download
Rear Suspension Download
SRS Airbag Download
Steering System Download
2012 Hyundai Elantra Wiring Diagrams Download
2000-2003 Hyundai Elantra Schematics Diagrams Download
2000-2003 Elantra - ETM - Harness Layouts Download
Hyundai Elantra Wiring Diagrams 1998 to 2016
Elantra V generation was one of the best sellers of the Hyundai brand, but it turned out to be on the sidelines: it was overshadowed by the cheaper Accent, and the platform-based Kia Cerato sold better. Although the Elantra is a car that is interesting in its own way both inside and out. And also quite reliable. Although he also has some problems.
Oil consumption
The most popular 1.6 engine is a close relative of the unit that was installed (and is still installed) on the Hyundai Accent. Only due to the second phase shifter is it more powerful - 132 hp. The motor is generally reliable, but requires attention to the oil level: after 100 thousand km, its consumption may become too high.
First of all, carefully inspect the engine from above and below. A considerable part of the oil sometimes leaves the engine through the valve cover gasket or seals. Of course, you can just add it more often, but it's better to change the rubber bands anyway - this engine does not like a low level, its resource is noticeably reduced.
Seizures in the cylinders
Every owner of a Kia Sportage or Hyundai ix35 with a two-liter gasoline engine has probably heard about this problem. But far fewer motorists know that the top Elantra V was equipped with, in fact, the same engine, only with a displacement reduced to 1.8 liters. And therefore, scratches on the walls of the cylinders are also characteristic of him.
When buying a used sedan, it is imperative to check the motor with an endoscope. And then carefully operate it - use only the recommended oil and change it in time. But the main thing is not to refuel at suspicious gas stations: low-quality gasoline destroys the catalyst, and its particles, getting into the cylinders, leave scuff marks.
Manual transmission
A manual gearbox, popular among Korean sedan owners, can last a long time and without problems if you operate the car in quiet modes, do not drag a heavy trailer behind it and make sure that oil does not leak out of the gearbox through any of the oil seals. But if you like fast driving, then by 100 thousand km the input shaft bearing, synchronizers and gears may wear out.
A new box assembly is an expensive thing, and it makes no sense to buy it. It's easier to find a used unit. Moreover, it was also put on Accent. Or you can repair the box: parts for it are also sold.